Glories of Persia Iranlife Tour (16 Days)
Ancient history, hospitable people of diverse races, and wide climate variations contribute to making Persia a unique and delightful tourist destination.
In the Iran Life Glories of Persia Tour you will sweep across the country making stops at a variety of famous sites that are sure to make a lasting and unforgettable impression on you. Your stops on this tour will include a selection of ancient and modern cities in east and central Iran such as Tehran, Shiraz, Persepolis, Bam, Rayn, Mahan, Kerman, Zeinoddin, Yazd, Isfahan, Neyshaboor, Mashhad, Shahrood, Semnan, and Garmsar. This tour runs year-round as each season offers a unique flavor of its own.
And as with all Iran Life tours, your guide will lead you into circumstances where you will have the opportunity to interact in everyday situations with the kind, hospitable people of these areas you will visit, making your visit to Iran more unforgettable than you could have expected.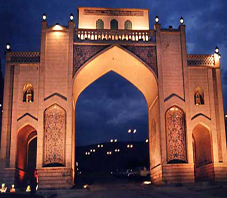 Day 1: Arrive Tehran, Visit Tehran, Fly to Shiraz
Upon your pre-dawn arrival in Tehran airport, you will be cordially received by our representative carrying our logo show card (transfer information) who will direct and transfer you to your hotel. You will have time to rest and relax before our morning tour of Tehran commences.
Tehran, a modern megalopolis, prides itself in its unique museums which hold immense and unrivaled collections of artifacts dating from the earliest onset of history to the present era. Your tour in Tehran begins with a trip to the Archeological Museum, one of the rare places in the world where you will have the special opportunity to visit and experience the "evolution of mankind" through a marvelous display of historical relics.
Next on the agenda is your very much-awaited chance to savor the distinctive flavor of Iranian cuisine. Lunch will be set in an exquisite traditional Iranian restaurant where you will have the opportunity to sample a wide range of delightful Persian dishes and desserts.
Afterwards, you will visit a world of priceless jewels at the Crown Jewels Museum, including one of the greatest diamonds in the world, Darya-e-Noor (Sea of Light).
At the end of the day, you will get a chance to see a variety of Persian hand-woven carpets and rugs in the Carpet Museum which houses more than 100 spectacular pieces from all over Iran. This includes an explanation of the history of these carpets.
Fly to Shiraz at night.
Attention: The priority in sightseeing may be changed based on the time of your arrival, preference of your guide and also official and unofficial holidays of the museums.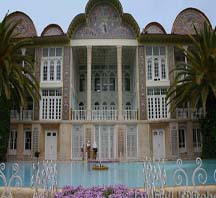 Day 2: Visit Shiraz
Shiraz, a city that has been at the center of Persian culture for more than 2,000 years, has the reputation as being a progressive city. This city of sophistication that was once the country's capital is crowned as the heartland of Persian culture. Shiraz will never fail to conjure up images of roses and nightingales, gardens and poetry.
Early in the morning, you will relish in the highlights of Shiraz by visiting sites that were full of life when this city was the capital of Iran during the Zand Dynasty. You will be inspired by the glorious Karim Khan palace, the splendid Vakil mosque, Vakil Bazaar and Saray-e-Moshir with its splendid architecture and interesting ethnic souvenir shops, and the Nasir Almolk mosque. Next, you will stop for a mouth-watering Iranian lunch at one of the traditional restaurants of Shiraz.
This city in the province of Fars is home to famous poets such as Hafez and Sa'adi as well as historical sites from different eras stretching back 6,000 years ago. Hafez was one of Persia's greatest poets who has impressed the world with his poetic mastery. A trip to the site where he is buried and honored is likely to stir the hearts and minds of the visitors.
Sa'adi was a poet, philosopher and mystic. About seven centuries ago Sa'adi recorded all his experiences from his travels to different countries and cities in verse and rhyme prose in two books, Boustan and Golestan. These two books inform and inspire the reader. You will have the chance to pay homage to this great poet when you visit his burial site which is set amidst beautiful gardens and pools.
In the evening, you will visit Ali-Ebn-e-Hamzeh marvel at its beauties. You will take a stroll among the tall and proud cedars of the Jahan Nama Garden. The evening tour ends with visits to the Delgosha Garden and Khajoy-e-Kermani Tomb.
At night have dinner in a local restaurant in the north of Shiraz and stay overnight in Shiraz.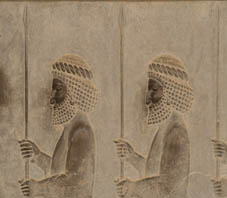 Day 3: An excursion to Persepolis and Necropolis
Your excursion for this day takes you to Persepolis. Founded by Darius I in 518 B.C., Persepolis was the capital of the Achaemenid Empire. It was built on an immense half-artificial, half-natural terrace, where this king of kings at that time created an impressive palace complex inspired by Mesopotamian models. The historical importance and quality of the monumental ruins make it a unique archaeological site. It seems that Darius planned this impressive complex of palaces not only as the seat of government but also, and primarily, as a show place and a spectacular center for the receptions and festivals of the Achaemenid kings and their empire, such as for the celebration of Nawruz.
Your next stop will be Necropolis. Opposite the mountain of Rahmat, a ten-minute drive to the north, proudly stands the Necropolis, the magnificent burial place of Achaemenid kings. This is also the site of seven bas-reliefs dating back to Elamite and Sassanid period.
Stay the night in Shiraz.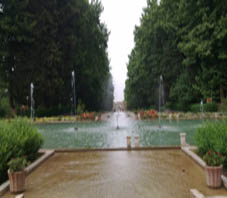 Day 4: Drive to Kerman via Neyriz & Bakhtegan
Today you will depart Shiraz for Kerman by bus. On the way you will pass by the shore of Lake Bakhtegan. When you arrive in Kerman, an old city located in the desert, among other interesting sights you will view gardens and qanats (aqueducts), which Kermani people are experts at constructing.
Stay overnight in Kerman.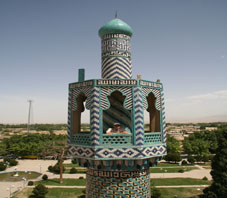 Day 5: Visit Mahan, Bam, Rayen
Today you will depart for Bam, along the way making a short stop in Mahan. Mahan is well-known for the tomb of Shah Ne'emat Ollah-e-Vali, the great Sufi leader, as well as Shazdeh Garden (Prince's Garden). Shazdeh Garden (Prince's Garden) is a historical Persian garden located 6km away from Mahan in the province of Kerman. The garden is rectangular-shaped, 5.5 hectares in size, enclosed by a wall. It consists of an entrance structure and gate at the lower end and a two-floor residential structure at the upper end. The land between these two is ornamented with water fountains that use the natural incline of the land to power them. The garden is a fine example of Persian gardens that make the most of climate and land formations.
Next you will visit the remains of the earthquake-stricken Arg-e-Bam (Bam Citadel) in the city of Bam, which still attracts the attention of travelers to Iran, and you will also see other popular tourist sites. You will also make a stop at Rayen to visit the interesting Rayen Castle, which is a replica of the Bam Citadel.
Stay overnight in Kerman.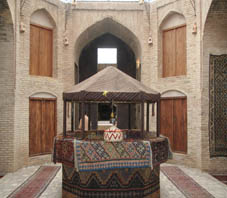 Day 6: In the morning visit Kerman, at evening visit Zeinoddin
In Kerman this morning you will visit the Ganjali Khan Complex and Kerman Bazaar.
Afterward you will visit Zeinoddin, a Safavid caravanserai in the heart of the desert. This site had been restored to match as best as possible its original structure. It has been awarded two awards from UNESCO in 2005 and 2006.
Stay overnight in the Zeinoddin caravanserai.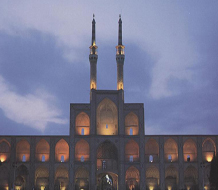 Day 7: Drive to Yazd, Visit Yazd
Today you will travel thirty kilometers south of the city of Yazd, where you will stop by the city of Mehriz. Mehriz consists of one central district and five village centers. According to historians, the name of this city comes from "Mehrnegar," the beloved daughter of Anoushirvan, the Sassanid King. Mehriz was characterized during the late Sassanid era (4th century AD) as being a pleasant place due to its natural environment.
In Mehriz, one of the most important places to visit is Saryazd. In Saryazd you will find a castle belonging to the Sassanid era which has been used as a haven in time of war. Another historical site there is Caravanserai in Saryazd, which dates back to the Seljuk and Safavid era. It is interesting to note that Saryaz grows some of the best pomegranates in Iran.
Next you will travel to Yazd, the oldest known adobe city in the world. Yazd is surrounded by the 4000m summit of Shirkooh and two majestic deserts of Iran, Dasht-e-Kavir and Kavir-e-Loot. This ancient city is furnished with mosques of stunning beauty. The co-existence of the splendid fire temples and the holy sites of different religions astonish every visitor.
Stay overnight in Yazd.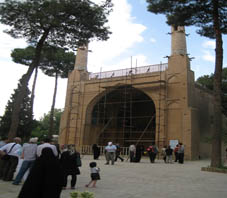 Day 8: In the morning visit Yazd, at evening drive to Isfahan
Today's tour in Yazd includes visiting Dakhmeh (Tower of Silence), where in the past Zoroastrians would leave the corpse of a person to be eaten by vultures. Next you will stop to see the Zoroastrian fire temples.
After having lunch we will drive 300 km from Yazd to Isfahan. Once reaching Isfahan, if possible, you will get to view some of the thirty-three famous bridges of Isfahan.
Stay overnight in Isfahan.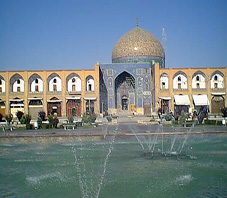 Day 9; Visit Isfahan
Isfahan, the legendary city which never fails to enchant its visitors, is the pearl of traditional Islamic archeology. This city has been revived by the works of contemporary artists.
Isfahan prides itself in its fascinating historical garden palaces. Legend has it that the city was founded at the time of Tahmourass or Keykavous, and because of its glories, has been entitled "Half the World."

Your full day tour in Isfahan includes a visit to the famed Imam Square (Naqsh-e-Jahan), a huge square second in the world to Beijing's Tiananmen Square. You will also enjoy the architectural marvels of the Sheikh Lotfollah and Imam Mosques, Aliqapu Palace, Chehel Sutoon and Hasht Behesht Palaces. This tour also includes a stopover at one of the many well-known Isfahani bazaars, where you can purchase the arts & crafts for which Isfahan is so well renowned.
Stay overnight in Isfahan.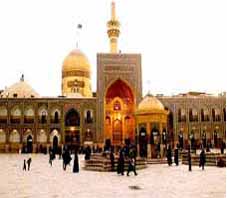 Day 10: Visit Isfahan, fly to Mashhad
Today your first stop is Isfahan's Jame' mosque. This mosque holds in itself the passage of several centuries of historical Islamic evolution. This mosque is a gallery of Islamic architecture in which the progress of the architecture from the outset of Islam till recent times is evident.
Next you will visit Vank Church, one of the most beautiful Armenian churches in the world, which will undoubtedly capture the attention of every Christian. Our day will conclude with a visit to Monar Jomban, the burial site of a Sufi with its shaking minarets, and also some historical bridges.
At night we will be transfered to the airport for the flight to Mashhad. Stay the night in Mashhad.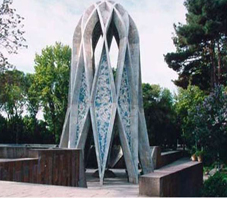 Day 11: Visit Neishabour & Tous
Early in the morning you will transfer to the airport to fly to Mashhad. Upon arrival, you will transfer to a hotel.
After a short rest you will drive to Neishaboor, where you will see the burial site of Hakim Omar Khayyam-e Neishabouri, a mathematician, astrologer, philosopher and poet of the 11th century AD whose achievements brought renown to this city. You will also visit the burial sites of Attar, a famous mystic poet of Iran, and Kamal-Al-Molk, a great modern painter.
Your next stop will be Tous, an ancient city in the province of Khorasan. On his way to solve the unrest in Khorasan in 808, the Abbasid Caliph Harun Al-Rashid fell ill and died in Tous. The city was almost entirely destroyed by Genghis Khan's Mongol conquest during 1220-1259.
Perhaps the most famous resident was the poet Ferdowsi, a great epic poet of the 10th century A.D. and author of Shahnameh (literally "King's Letter"), the famous epic in which the stories of Rostam and Sohrab are skillfully recorded. This book is as great as Homer's Iliad and Odyssey is in western literature. His mausoleum, built in 1934 in time for the millennium of his birth, dominates the town.
Spend the night in Mashad.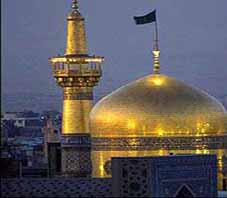 Day 12: Visit Mashhad, Move to Shahroud by train
Today you will visit Mashhad. Mashad is the city where the Shiite Imam Reza was martyred, and thus is an important site for Shiite Muslim Pilgrims. This huge complex is the first holy shrine built in Iran. You will enjoy a full-day tour in Mashhad which will include stopping at the Imam Reza Holy Shrine and the Nader Shah Museum.
You will also visit Harounieh, an interesting structure of which its undiscovered original function still provokes the thoughts of visitors today.
Following your stop at Harounieh, you will transfer to the train station to take a train to Shahroud.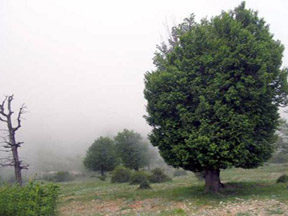 Day 13: Visit Shahroud & Abr forest & Central desert of Iran

Today's tour includes visiting Shahroud, a city in Semnan province. In 2006, traces of a prehistoric, 8,000-year-old settlement were found in Shahroud. The discoveries included craft workshops and other evidence of settlements.
Shahroud is a city bordered by desert (Dasht-e-Kavir), mountains (Alborz Mountain range), and forest (Abr Forest). You can see the most beautiful perspectives of Dasht-e-Kavir from the south part of this city. There you will visit Dasht-e-Kavir and the Shah Kuh and Sah Var Mountains, which are part of the Alborz Mountain range.
The beautiful Abr forest is usually filled with fog, hence its name, Abr (cloud) Forest. In the morning we will visit this forest in the central province of Semnan, near its border with the province of Golestan. It is one of the oldest forests in Iran, a remnant of the third geological age. The Iranian Roads Ministry's decision to build a road through the forest sparked widespread protests.
Once passing through the city, you will reach the Salty Desert. There in the evening you will enjoy a night tour of this desert and take in its beauty.
You will enjoy dinner under the starry sky and stay the night in Shahroud.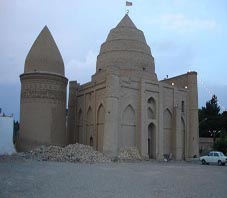 Day 14: Move to Tehran by train, Damghan , Semnan & Garmsar will be visited while we are in the train

Today you will travel to Tehran by car or train,Damghan, Semnan, and Garmsar, will be some cities that we will pass them and visit them while we are in the train.
You will stay the night in Tehran.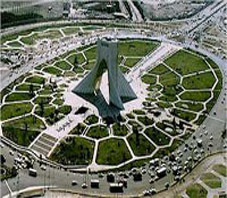 Day 15: Visit Tehran
In the morning you will tour the Sa'ad Abad Complex, an immense area of 1,100,000 square meters with 18 magnificent historical palaces, two of which you will have the chance to visit. This magnificent complex built by the Pahlavi dynasty will undoubtedly leave a lasting impression on its visitors. Second on your Tehran itinerary will be a visit to the Ceramic Museum where you will be able to view glorious ancient archaeology.
Then you will leave the hotel to partake of a tasty Iranian lunch in a traditional restaurant.
Depart Iran either Day 15 or Day 16, depending on your flight arrangements.
Day 16: Depart Iran
Depart Iran, the land of warmth and hospitality, with fond memories.
Tour Services:
1. 16-Day Tour Led by an Experienced English-Speaking Guide

2. 16 Nights in 2- and 3-Star Hotels

3. Transportation

4. Domestic Flights

5. Breakfasts and Lunches

6. All Entrance Fees to Sites

7. Invitation Letter for Iranian Visa

8. Guided Transfers

9. Special Offers
Our web tour prices are for each person in DBL room. The SNG supplement is 20% of the total tour.
The differences of 3 versions of our tours are as below:
We do not have Iranlife tour anymore.
Economy tour only includes 2* hotels with breakfast and English speaking driver (basic English) and invitation letter of Iran visa and domestic flight if available in the tour.
Nothing more is included in our economy tours.
American, British and Canadian cannot choose this economy version because in this version there is no guide and these nationalities need to have guide to book the tour and apply for visa.

In Standard tours hotels are 3*/4*.
in Luxury tours hotels are the best options in each city (mostly 4*/5* except in cities that has no 4*/5*).