Richest: English
---
Iranian Hospitality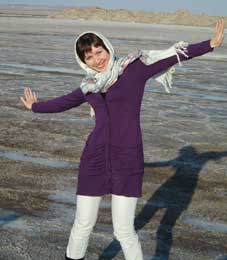 Name: Veronica
Country: Ukrainian
Date: 2013-03-01
Comment : I\'d like to thank PTA for this wonderful trip. Excellent organization. Thank you to my guide Mohammad Reza, he is one of the best guides. Iran is a very beautiful country with rich historical sights. Very polite and friendly people live in this country. Only there you can find so tasty food. Thank you again for this unforgettable journey.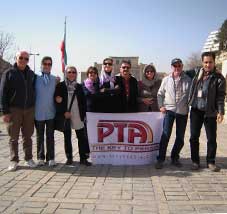 Name: Fulvio Bambi
Country: Italy
Date: 2013-02-24
Comment : we were a group of 9 persons ,and we all are enthusiast about the organization of PARS and reception of iranian people to us. The cities are very beautiful and clean and full of artistic treasures preserved very well. the street are well kept and flights are on time.Who loves travelling cannot help coming almost one time in iran! Wonderful country and Beautiful people!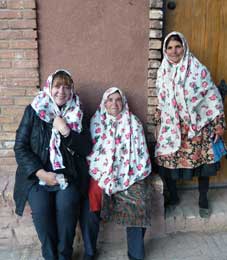 Name: Belinda Patey
Country: Australia
Date: 2013-01-10
Comment : A very big thank you to Aliye and Pars TA for their excellent organisation of my fabulous 12 day tour of Iran, from the visa to my departure. Thanks also to Saeed for being such a good guide and a considerate and respectful travelling companion. It was a great experience and I look forward to visiting again sometime in the future.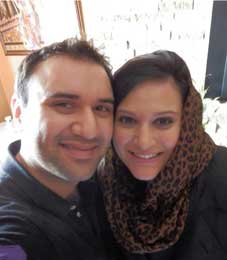 Name: Kelly & Rohan
Country: Australia
Date: 2012/10/24
Comment : We would like to thank Aliyeh, Morteza and Mahmood for such a wonderful trip to Iran! It exceeded all our expectations and we cannot wait to plan our next trip! Best wishes.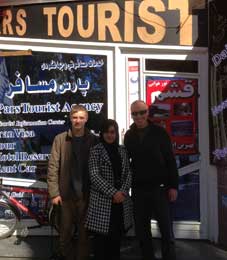 Name: Felix & Stephan
Country: Germany
Date: 2012/12/27
Comment :
I would like to thank Pars tours for its excellent service in providing me and my father with a wonderful and hassle free experience in Iran. We had an incredible stay only further improved by the excellent staff and services from your agemcy. the driver was excellent and the visa was handled very professionally. It was also a very nice experience to be able to visit you office while in shiraz. I have recommended your services and will surely be coming back to Iran with your agency, hopefully quite soon with the rest of my family. I hope to have the pleasure of visiting Iran with your firm in the not to distant future.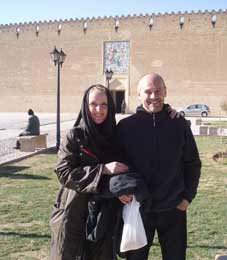 Name: Muriel & Philippe
Country: France
Date: 2013/12/28
Comment :
Our trip in Iran was wonderful, by the efforts of the perfect organisation and availibility of PTA, our kind and thoughtfull guide Said, the smile and hospitality of Iranian people, the beauty of heritage and landscapes, the art of living. We have appreciate everything and highly recommand as the country as PTA. Go to Iran, it\'s cool, safe and absolutely not as our occidental medias show us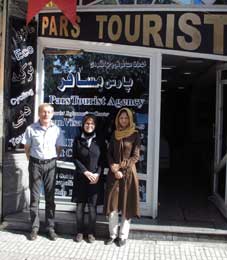 Name: Christine
Country: France

Date: 2012/10/17

Comment : A first glance for a two weeks trip, to short of course. Once at Teheran we made our programm (Kashan, Isfahan, Shiraz) and I can tell that PTA was extremly reactive and efficient even at last minute. I\'ve a job in tourism in France and I would like my team to be such helpful with our customers. Travelling in Iran was really enjoyable, easy, full of friendly contacts with iranian people. We are already thinking about our next holidays in this beautiful country . Et pour les français et francophones qui hésitent encore à faire le voyage, sachez que l\'agence peut répondre à toutes vos interrogations en français et nous apporte ainsi une aide précieuse pour l\'organisation de notre séjour.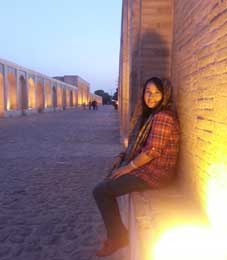 Name: Jodie Zheng
Country: China
Date: 2012/10/05
Comment : I had a perfect and unforgettable journey with Treasure of Persia program 5-17 Oct. All the amazing architecures with historical significance, beautiful natural scenes and exquisite handicrafts are beyond imagination you may have before arriving there. The professional service from PTA makes me feel at home along the journey. The local people are friendly and lovely. I miss the food and candy there a lot:)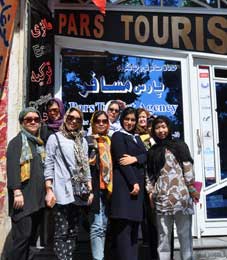 Name: Liping Wang
Country:China
Date: 2012/9/28
Comment : Iran is a mysterious, historial country. The people of Iran is very friendly. All the patterns and cielings of mosques which we have visited are amazing. The sites of Posepolise, the colorful dressing of Abyaneh City, the traditional houses of Kashan, are very special. The PTA\\\'s services are very considerate, including of our tourguide. Wish more chinese could go to visit Iran.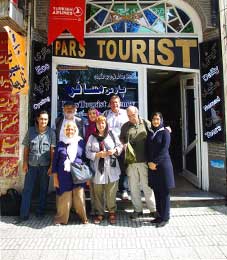 Name: Guido Molinari
Country: Italy

Date: 2012/09/19
Comment : Great 15 days trip around the country. People were extremely nice and welcoming everywhere we went. Always felt safe and respected. Having travelled extensively
across North Africa and the Middle East, I have to say Iran holds a pretty special place in the region, and I can only recommend it.
Name: Xiaoli Xu
Country: China
Date:2012/09/27
Comment: Just came back from Iran, and I began to miss it quite much. I am asked by my friends what Iran impressed me most. My answer is people, even though the scenery, the history, and culture are by all means amazing. Also the tourguides from PTA, who are professional, helpful and energetic, are loved by everyone in our group. Wish I can come back to stay longer in this wonderful country!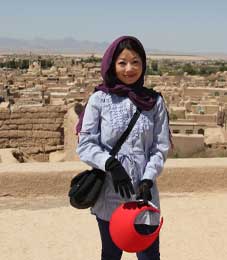 Name: Miyoko Ishigami
Country: Japan
Comment:
Having traveled nearly 60 countries around the globe in my life, I swear Iran occupies a very special place in my heart. Its rich cultural and historical heritage, locals' hospitality, kindness and friendliness, and lots of wonders kept fascinating me throughout a 13-day adventure. The impressiveness still lingers... I took some 2,800 pictures, not only of magnificent scenery but also of the Iranian people with me, which all now remind me of precise moments. I was a solo traveler, but felt at home, safe and fun, thanks to famous Iranian hospitality. Every single day, I enjoyed chatting with many Iranians from little kids, curious teenagers to religious elders.
I'd also like to thank Pars Tourist Agency for efficiently (and patiently !) arranging a tailor made private tour that met my specific needs. My private guides in each city were all well-educated, knowledgeable, attentive and friendly, bringing me rewarding experiences.
I highly recommend a visit to Iran, and for sure I'LL BE BACK !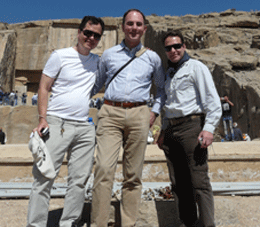 Name: Roberto
Country: Italy
Date: 2012/03/17

Comment: Very nice and interesting tour, with a clear view of the Iranian lifestyle. Travelling in Iran is really safe, and Iranian people are quite friendly, and curious about the opinions of tourists. Unforgattable.
Name: Gunnar Johard
Country: sweden
Date: 05/04/2012

Comment:people are very nice,friendly. places such as Isfahan,Mashhad,shiraz are all beautiful. this agency is so helpful and our guide to Persepolis is very good.

Name: Jacob I Myschetzky
Country: Denmark
Date: 04/04/2012

Comment: Until now we have only had good experiences in Iran. nice and wellcoming people,great food and beautiful sights! our guid today, Darius was knowledgable,M.A of History and a fantastic guide to Persepolis

Name: Annah Pynsiah
Country: Denmark
Date: 04/04/2012
Comment: Iran is a very beautiful country, the tourist sites are very well preserved. the people are very hospitable and kind. many people helped us ordering food,helped us when we were lost, or we needed direction. it is a very pleasurable country to travel in, and we will tell our friends that Iran is a good place for tourism.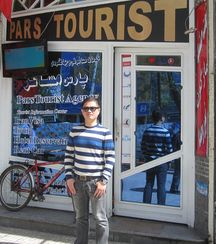 Name:Terrance Tan
Country: Singapore
Date: 31/03/ 2012
Comment: I had a fabulous time in Iran as I am overwhelmed with the warmth and hospitality of the Iranian people and its rich culture. As opposed to what we hear of Iran, we get a new perspective of Iran as we feel welcome and we feel the friendliness of the people here in Iran. I would strongly recommend Iran to any travellers who want to visit and get exposed to the Iranian culture. It's an experience which I highly value and appreciate having been through Iran on my own!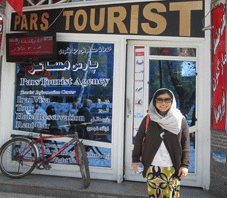 Name: Gloria Cheng
Country: China
Date: 31/03/ 2012
Comment: Iran is a beautiful country full of beautiful and friendly people and a rich history. I am touched by the people's friendliness and hospitality. I totally enjoyed the experience here. And i will not hesitate to recommend Iran to all who want to have an unforgettable trip.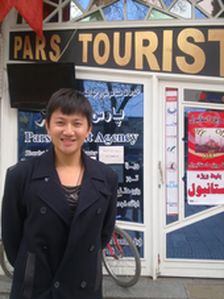 Name:Liang Liang
Country: China
Date:27/02/2012
Comment: There is long and great relationship between china and Iran. when we get there, we meet nice and kind people and receive high welcome which beyond our imagination. thanks for the travel agency to give us such pleasant trip.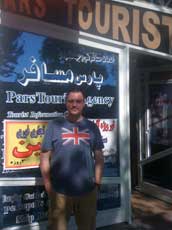 Name:Christian Hunt
Country: England
Date: 06/07/2011

comment:I have wanted to come to Iran for some time and was therefore careful about which tour agency Iused. The trip has been outstanding; a great itinerary which gave a real flavour of Iran. The tourguide and driver were both highly knowledgeable, engaging and extremely welcoming. Ithoroughly enjoyed spending time with them; Iran is a big country and you end up spending a lot of time with your guide and driver. The two I had were fun to be with, well informed and delivered excellent service. They were very prepared to talk about all aspects of life in Iran and I learnt a tremendous amount. Much more than I would have done on my own or not as part of a tour. I have absolutely no hesitation in recommending these tours; the accommodation is what you would expect (clean and safe) and the infrastructure in Iran far exceeded my expectations. Getting a visa can be a hassle but these guys can make the process a lot easier. Overall an excellent trip and I will be back.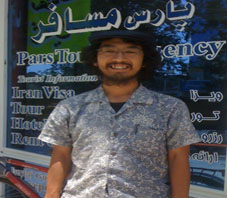 Name: Suzuki
Date: 2011/06/21 23:40:54
Country: Japan
Comment: Iranian people is very kind and friendly to foreign tourists and I can find a lot of cultural and historical things in Iran. It is very fantastic for me.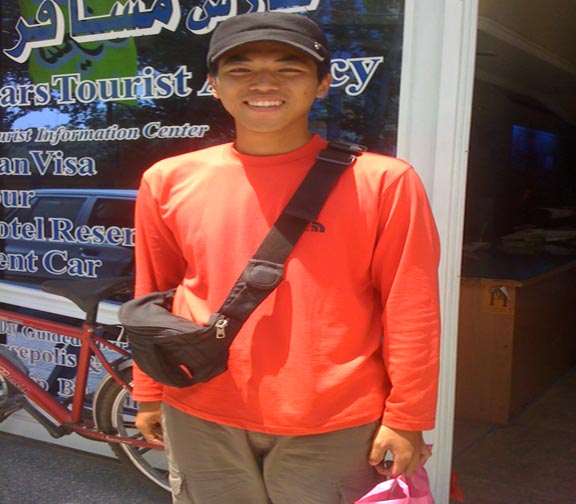 Name: chunkai
Date: 2011/06/21 02:21:25
Country: Taiwan
Comment: its such a beautiful country very good and kind people with great hospitality.i wish i could come back again in the future.
really a great trip in Iran.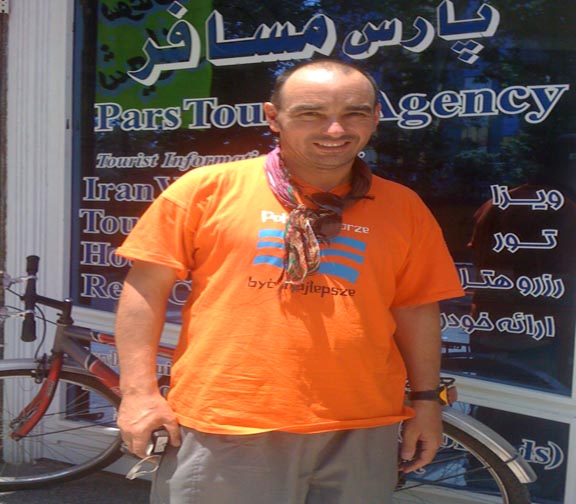 Name: duarte nuno
Date: 2011/06/21 02:17:14
Country: portugal
Comment: foi um passeio muito agradavel a persepolis, com mais 4 turistas. o guia foi muito simpatico e profissional na visita efectuada. recomendo o passeio e a viagem persepolis vale bem a pena a deslocacao. duarte nuno.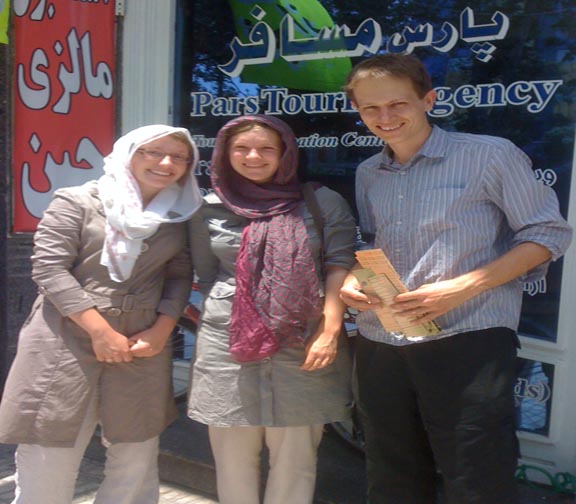 Name: kate, Judy and Mark
Date: 2011/06/21 02:08:59
Country: UK
Comment : We've been in Iran 13 days so far - and we've stayed with three families, eaten lunch with five people and had countless interesting conversations. It is so easy to travel in Iran - everyone wants to help you all the time!
Name: Nick Burree
Date: 2011/06/23 01:44:08
Country: England
Comment : So far I have only been in Iran 1 day and the people hospitality and friendliness has been some of the best from traveling around the world. I would highly recommend anyone to come to Iran to see for themselves the true people of Iran.
Name: Berend
Date: 2011/06/20 00:20:43
Country: The Netherlands
Comment: i visited Iran for the first time this year.i read about Iranian hospitality they are even more friendly. English seems
common in Iran and it is not hard to find someone who can be helpful and talk a few words in English!!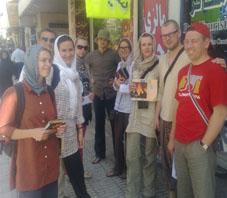 Name: neringa
Date: 2011/06/19 22:47:59
Country: Lithuania
Comment: we are very impressed of Iran,very friendly people and very developed country.we recommend to visit Iran.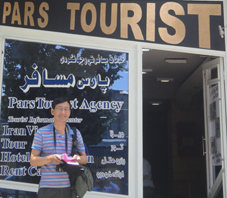 Name: Choong Lyol Lee
Date: 2011/07/06 00:21:41
Country: Korea
Comment:People in Shiraz is very very kind. Everybody smile and many people approach to me to say "Hello". When I get into
Shiraz international airport, the officer in Visa office very kindly help me to get an entry visa to Iran on arrival. In addition, the peo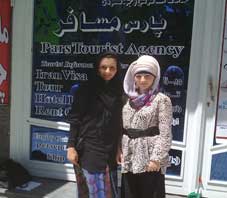 Name:Marina Khadidzsa Fawn
country:Canada
Date:August 1/2011

comment:Iranian people are incredibly warm and friendly, always welcoming in Iran and to share meals and spend time with their families. They are very curious and interested to speak to us and show their immense hospitality. The best places to meet Iranians are in the park with their families and while sightseeing. Great experience, my favorite country
Name:Julia Batschauer
Date:01/08/2011
country:Brazil
comment:Being cabin crew I´ve come across different ways of life and i can say Iran has a unique culture and a very rich history, which is sometimes misunderstood by the rest of the world. Shiraz is a place that offers a lot in terms of experiencing local customs and has plenty of historical sites, a treat for the more adventurous who are looking for a not so ordinary touristic spot. Thumbs up for the tour guides at Pars agency also who had a very good knowledge and never let a question unanswered, definately a memorable trip!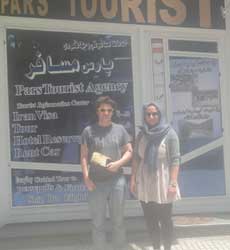 Name:Lily Brodnax bell
country:England
Date:5/08/2011
Comment:We have been treated with nothing but kindness and hospitality since the moment we crossed the border - and before, thanks to the Iranians on board our train from Istanbul - and we have been very glad to see that none of the negative stereotypes of Iran apply to the people in the country. Thank you for a wonderful trip.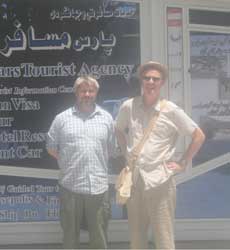 Name:Martin Cookson
Country:UK
Date:29/07/2011
Comment:Myself and my two friends have found Iran to be an enlightening experience. Despite what you might have been led to believe by western news media, Iran is an open, friendly place where people are hospitable, happy to talk with you and help you and who are very proud of their country\'s history. The infrastructure for tourism is good; roads and buses to get you around are cheap and reliable, hotels are good and can be very atmospheric and historic. The country has a lot to offer if you are interested in the ancient world, in history, architecture and art. We would recommend that you don\'t be put off and come and visit.
Name:NAUTRE
Country:German
Date:12/09/2011
Comment:what is the reason why non-muslim women have to wear the veil?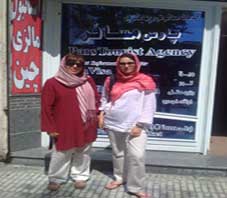 Name:Dragana Asanovic
Country:Montenegro
Date:08/09/2011
comment:Iran is beautiful country, I enjoy here. People are friendly, women is beautiful.
Nature is fine.....I like Iran food ... All is very interesting for me. I don\'t need words for explanation here.....