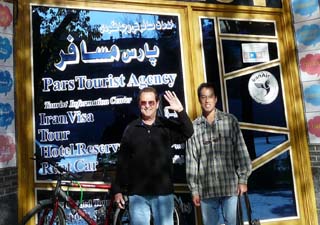 Buddy Hatton , Larry Won

Film producers: www.buddyhatton.com

Location: San Francisco , California USA

Enterance: December 2008

Length: One month

Cities: Teheran, Ahvaz, Isfahan, Shiraz, Abyaneh, Caspian, Yazd, Qom, Susa
Comments:
What an incredible experience! Such wonderful hospitality!
We came to Iran without any preconceptions and research and was shown one of the best travel experiences in my career. Guides were most accommodating and accommodations were surprisingly 5 star in major cities. Our tour covered extremes of geography from staying with nomads in the desert to a 5 star hotel the culturally rich city of Shiraz - a tour I would recommend to anyone.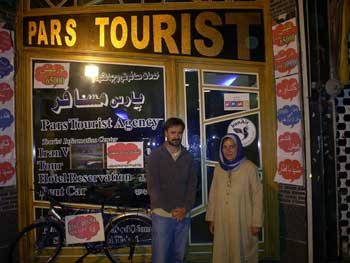 Our several years of operating tours for tourists from different parts of the world proves the fact that they believe the Iranian hospitality as one of the unique and distinctive features of its people. This characteristic of the Iranians attracts most of the tourists. But unfortunately due to the shortage of true information about Iran and its facts, the world usually has different conceptions in their mind from what it really is.
Therefore, we intend to carry out a scientific research by asking the opinion of the tourists visiting Iran about this tangible fact to investigate the real hospitality of Iranian people.
We have based our research on the ideas of the tourists who refer to our agency in the center of the city of Shiraz. But in order to prove the hospitable Iranian people to the world travelers, we eagerly ask anyone who intends to help us promote this project to refer to us when they are in Shiraz or fill out the following form along with your own photo to be added to our list.
Thank you in advance for your care and support!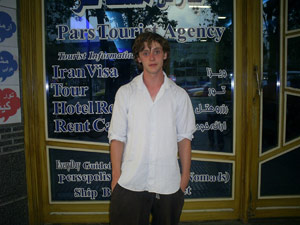 Alastair Ball
Location: Scotland
Entrance: 22 July 2008
Cities: Mashad, Yazd, Esfahan, Shiraz...
Length: One Month
Comments: I have had an amazing time in Iran. The hospitality, in particular, of the Iranians I have met has made this month in Iran endlessly fun. The historical sites are awesome, but my best times here have definitely been backgammon and tea for two days in Esfahan- perfect!
Cyrielle and Ludovic Auffray
Location: France
Entrance: 7-8-2008
Cities: Shiraz, Esfahan, Tehran, Mashhad, Tabriz
Length: 20 days
Comments: Nous sommes entres en Iran depuis une semaine et nous ne regrettons en rien cette destination de voyage. L'Iran est un pays magnifique dote de villes fascinantes et de paysages surprenants. Les Iraniens font preuve d'une hospitalite exemplaire en toutes circonstances. Decouvrir l'Iran est une experience a ne manquer sous aucun pretexte ! Il y est tres facile de voyager de facon independante, meme si l'aide d'un guide peut parfois etre appreciable. L'Iran est vraiment a l'oppose de tous les cliches vehicules par les medias occidentaux. Venez en Iran !!!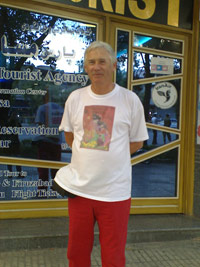 Therouanne
Location: France
Entrance: 3 aout 2008
Cities: hamadan. sush. chirarz. ispahan. khashan. teheran
Length: 15 jours
Comments: l Iran est un pays de grande civilisation et de grande culture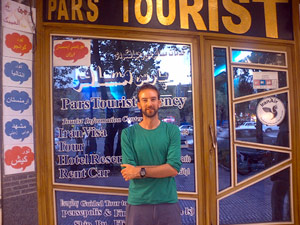 Andrew kenny
Location: ireland
Entrance:26th july
Cities: esfahan, shiraz, yazd, kashan,Qom,Tehran
Length: three weeks
Comments: Travelling in Iran is an exciting, fun and warm experience. this is due mainly to the people of the country who are extremely friendly and helpful!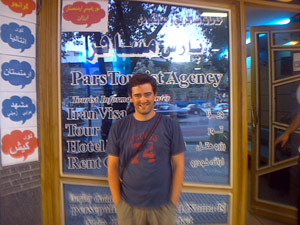 Frank Maher
Location: Ireland
Entrance: 26/07/08
Cities: Esfahan, Shiraz, Yazd, Kashan, Qom, Tehran, Masuleh, Kandovan, Tabriz
Length: 3 weeks
Comments: Iranian hosptality has really taken me by surprise. Everyone has been so kind and helpful it has been humbling at times. Atruly wonderful and open people.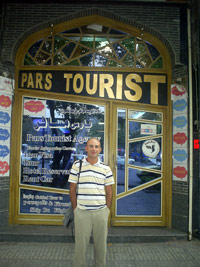 Lorenzo Casaccia
Location: Italy
Entrance: July 28
Cities: Mashhad, Shiraz, Esfahan, Yazd, Kerman, Kashan, Qom, Qazvin, Zanjan, Tabriz, Teheran
Length: 25 days
Comments: People very welcoming and warm. Very nice to spend time talking to young people. Unfortunately not many tourists around.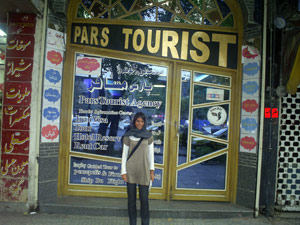 Giulia Ajmone Marsan
Location: italy
Entrance: 28 july 2008
Cities: mashhad, kashan, yazd, kerman, shiraz, esfahan, teheran, tabriz
Length: 3 weeks
Comments: Iranian people are extremely hospital and very friendly, the towns are really beautiful, good means of transporrtation, but few restaurants!!!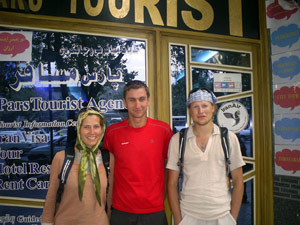 Heike Sattelberger
Location: Germany
Entrance: 10.07.2008
Cities: Tabriz, Arderbil, Astara, Tehran, Esfahan, Shiraz, Yazd, Mashad
Length: 6 weeks
Comments: Iranien people are very nice and friendly, very nice hospitality. Very interesting culture and cities to visit. So far we enjoy our trip to iran.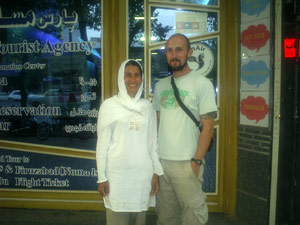 Rosie da Costa
Location: England Entrance: 31st August 08 Cities: Tabriz, Shush, Shiraz, Esfahan, Yazd, Tehran, Mashad Length: 3 weeks
Comments: Of all of the people in the countries I have visited in the world, Iranians are some of the most friendly and welcoming. Don't be influenced by the media. Come and visit Iran!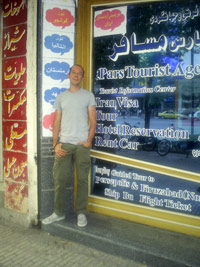 Tomas Calvo
Location: Spain Entrance: July 23rd 2008 cities: Esfahan, Shiraz, Yazd, Kashan, Qom, Tehran, Masuleh, Kandovan, Tabriz Length: 15 days
comments: Never mind the timeless culture, the impressive history or the beauty of a mosque under the call to prayer, the highlight of Iran is the people. There is nothing like meeting an iranian always smiling and share a cup of tea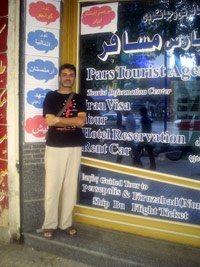 Juan Montoya
Location: Spain Entrance: July 23rd 2008 cities: Esfahan, Shiraz, Yazd, Kashan, Qom, Tehran, Masuleh, Kandovan, Tabriz Length: 15 days
comments: Iran is a beautiful country, and the people from Iran offered me endless hospitality during my stay. They really made me feel at home. Everybody helped every time I needed it. I definitely will be coming back to Iran soon, to meet again all the friends I made during my trip.
Bibiana Gerez
Location: Spain Entrance: 26 July 2008 cities: Teheran, Shiraz, Isfahan, Persepolis, Tabriz, Ardeville
Length: 23 days
comments: We have come to Iran because a friends told us that it was very nice and the people very friendly. We like climbing mountains so we decided to come to Iran to visit some cities and climb Zagros mountains and Sabalan. People in Iran are very friendly and everybody try to help us. So many students has met us and wanted to talk in English to us. We have visited small towns, big cities, we have met nomads (on the mountains) and we have seen wonderful places.
Filippo
Location: italy Length: 1 month Occupation: technician
Comments: Iran and iranian people are a surprise for us : very kind peacefull and helpfull and really different from the idea what we receive abrod in our country. We had to cancel a lot of prejudices and wrong ignorant ideas quite common where we live.
Kotaro Taki

Location: JAPAN

Entrance: 4.8

Cities: Esfahan

Length: 2weeks

Occupation: student

Education: university

Comments: Iranian people are very kind.They always helps us when we are in trouble. And Iranian historical heritages are great, especially mosq