Ascending Bel Mount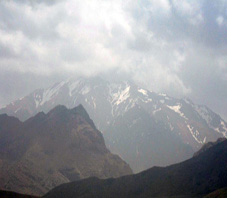 1. Altitude: 4090 m
2. Geographical index: 30° 53' 37,70" N, 52° 41' 35,83" E
3. Best Time: Spring, summer and autumn
4. Position: 229 km north of Shiraz, 190 km southwest of Yazd, 220 km south of Esfahan
5. Sort: Zargros Sedimentary
6. Launch Spot height: 2233 m
8. Grade
The tour starts from Shiraz.
The mountain climbing itinerary:
Day 1:
Early in the morning drive to Assari gorge in a 4wd (1 hour). Start a 5-hour climb along the slopes of the highest peak in Fars province, a uniquely incredible and hospitable mountain. This mountain with the lowest difficulty grade allows its climbers to climb over 4000 m. Stay overnight in a camp at 3500 m.
Day 2:
Conquer the peak at 4050 m and take photos (4 hours), then return to Assari gorge (3 hours). Drive to Eghlid, have lunch and continue the route to Yazd. Along the way visit Abarqu and its traditional cisterns, ice-stories and 4500 year old cypress tree.Old trees in Iran are symbol of eternity, so people consider them as mediums between God and themselves. People aspire in their heart and fasten pieces to its branches.. Stay overnight in Yazd.