Bishapour, Chogan Strait & Parishan Lake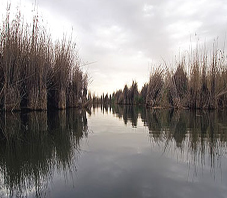 119 km west of Shiraz the remnants of Bishapour, the great Sassanid city, and 5 historically significant bas-reliefs lie in Chogan strait. A variety of natural beauties like Arjan and Parishan lakes, the two unrivaled fresh water lakes with the unique species of birds, fauna and flora are the other attraction of this region. All this together will present a brilliant day to the visitors of Fars province.
Attractions:
1. Historical sites in Bishapour & Chogan strait
2. Arjan Lake & the surrounding areas
3. Parishan Lake
Itinerary:
At 7 am leave Shiraz for Bishapour and Chogan strait (125 km, 2 hrs). Have breakfast near Arjan Lake (30 mins) and then visit Bishapour and Chogan strait (3 hrs). Drive to Parishan Lake (35 mins) and visit this fantastic lake (2 hrs). Boat and afterwards return to Shiraz (2 hrs).
Inclusions:
1. Transport
2. Tour Guide (optional)
3. Shirazi breakfast, lunch & refreshment (optional)
Approximate tour duration: 10 hrs
Best time of operation: Spring, autumn & winter