Darya Strait to Baladeh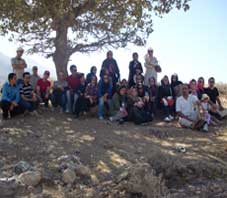 78 km southwest of Shiraz lies an optimal region for the production of pomegranate in autumn and winter, due to its soil fertility, tropical weather and brimstony water. The air is filled with aroma of wild narcissuses which grows there. In this tour you will trek the wild path between these two regions. This tour is suggested in autumn and winter.
Attractions:
1. Best pomegranate gardens in Mesghan
2. Fantastic fields of wild narcissus in Jareh va Baladeh
3. Brimstony spring in Darya Strait
Itinerary:
Early in the morning hit the road from Shiraz to Darya Strait in a 4WD (1:30 hrs) and visit the strait (1 hr). Return to Mesghan and visit the pomegranate gardens en route (1:30 hrs). Then, trek from Mesghan to Jareh (4 hrs) to visit the pastures and the fields of wild narcissus on the way (2 hrs). Finally return to Shiraz via Gav Koshak village (3 hrs).
Inclusions:
1. 4WD vehicle
2. Mount climber tour guide
3. Dining
Approximate tour duration: One full day
Best time of operation: Autumn & winter