Ghalat to Khanezenian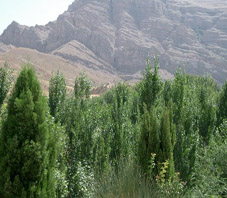 38 km northwest of Shiraz in a region with stunning natural landscape lies the historical village of Ghalat, and 35 km west of Shiraz is the village of Khanezenian. The tranquil road between these two villages offers sensational views of mountain, river, woods and plain. Soak up the atmosphere as you pass this way in solitude through this breathtaking region.
Attractions:
1. Cycling in a sideway from northwest to west Shiraz (29 km).
Itinerary:
Transport the bikes and bikers to the village of Ghalat. Visit the waterfalls, churches and old parts of the village (2 hrs). Take the picturesque route from Ghalat to Khanezenian (3 hrs). Finally head back for Shiraz (1 hr).
Inclusions:
1. Transport (Pickup truck)
2. Bicycle
3. Cyclist tour guide
4. Refreshment
5. Map and appropriate outfit
Approximate tour duration: Half a Day

Best time of operation: All year round