Shafagh Cave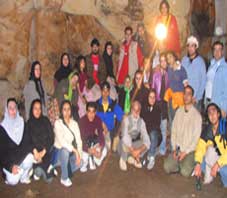 142 km south of Shiraz near Meimand, known as the village of flowers, a deep cave with two entrances to the east lies within a huge mount. At sunrise the sunray is broken in the cave's portico and reflects colorful beams. The end of this cave has not yet been detected.
Attractions:
1. A stunning, lengthy cave with unique attractions
2. Meimand village and the fragrant flower gardens
Itinerary:
Day 1: Depart from Shiraz towards Shafagh cave in a 4WD (142 km, 2 hrs). Climb the mountain (1:30 hrs) to reach its entrance. Enter the cave and set up tent in the entrance to stay overnight.
Day 2: Early in the morning experience a whimsical sunrise at the site. Have lunch and then explore the cave (3 hrs). Return to Shiraz in the afternoon (2 hrs) and visit Meimand on the way (2 hrs).
Inclusions:
1. 4WD vehicle
2. Caver tour guide
3. Dining
4. Camp & other necessary equipment
Approximate tour duration: 2 days
Best time of operation: All year round