Tang-e Sorkhi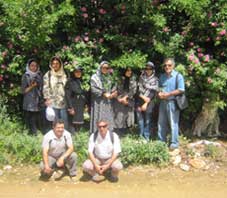 130 km far from Shiraz towards Sepidan is the splendid Tang-e Sorkh village. In the vicinity of this village is a scenic strait with rich flora. Through this strait a lush river stretches towards the Komehr village located in Margoon region (NW 220). This site is suitable for a full day trekking.
Attractions:
1. Komehr and Tang-e Sorkh villages
2. Margoon waterfall
3. 4 hours trekking in the intact nature of Zagros
4. Nomads
Itinerary:
Early in the morning head for Tang-e Sorkh village (120 km, 1:30 hrs), have breakfast in the village and get acquainted with the living style. Trek (4 hrs) towards Komehr and rub elbows with the nomads en route. Visit Komehr and have lunch (1 hr). Drive to Margoon waterfall (19 km, 30 min) and visit this splendid waterfall (1 hr). Return to Shiraz (2:30 hrs).
Inclusions:
1. Transport
2. Tour guide
3. Dining (optional)
Approximate tour duration: One full day
Best time of operation: Spring & summer