Two-days Darab Tour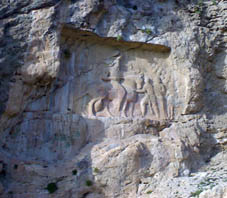 Darab is located to the southeast of Shiraz and contains many worthy historical monuments which date back to various periods of Persian history. We suggest this tour to the fascinated archeologists or tourists traveling between Shiraz and Bandar Abbass.
Attractions:
1. Sarvestan Palace
2. Safavid Caravanserai
3. Darabgerd
4. Stone Mill & Mosque
5. Naqsh-e Rostam of Darab
6. Golabi Spring
Itinerary:
Day 1: Early in the morning travel to the historical city of Darabgerd (268 km, 3 hrs), visit Sarvestan palace (1 hr) and Safavid Caravanserai (1 hr) en route. Then visit the ruins of Daranbgerd (2 hrs) and stay overnight in a guesthouse in Darabgerd.
Day 2: Visit to the stone mill complex (2 hrs), the mosque of Darab and Naqsh-e Rostam (1 hr). Depart for Golabi spring (2 hrs) and have lunch there. Finally return to Shiraz.
Inclusions:
1. Transport
2. Tour Guide
3. Breakfast, lunch & refreshment (optional)
4. Accommodation
Approximate tour duration: 2 days
Best time of operation: Spring, autumn & winter