Walnut Woods in Bavanat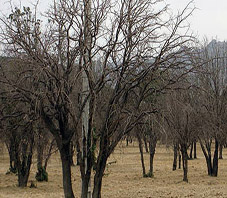 Walnut trees grow up in the cool-temperate regions. This majestic tree of the cool shadows lives even for one hundred years. In this tour you will hit the road and travel 242 km from Shiraz to Bavanat. In Bavanat you will visit the walnut woods, the holy shrine of a saint, its long-lived trees and the friendly nomads of the region.its not a bad idea to remind you that Bavanat is mentioned as a must-see in Lonelyplanet .
Attractions:
1. Touristy region of Bavanat
2. Walnut woods
3. Imamzadeh Bazm
4. Qanat (aqueduct) and the traditional Iranian water distribution
Itinerary:
Note: It is also possible to operate this tour in one full day.
Day 1: Early in the morning depart Shiraz for Bavanat (242 km, 3.5 hrs). Visit Imamzadeh, qanat, the old trees and eat lunch (4 hrs). Transfer to the black tents of the nomads to stay overnight.
Day 2: Return to the walnut woods in Bavanat to take a stroll (2 hrs). Finally return to Shiraz (3.5 hrs).
Inclusions:
1. Transport
2. Tour guide
3. Camp
4. Necessary equipment
Approximate tour duration: 2 days
Best time of operation: Spring & summer