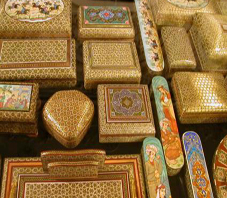 Iran has witnessed lots of scientists and artists through history. Due to the presence of various races and languages in Iran, this country has different cultures so different handicrafts. Iranian tile and ceramic industry and their products, plasterwork has been in mosques and historical monuments by creating impressive views.
Metal and wood handicrafts like copper and brass products, silver work, inlaid work, engraving, embossment work, and other delicate arts like pottery, glassworks, weaving Carpet, brocaded cloth, needle work broidery, tannery are most beautiful and magnificent examples.
Using best materials, nice designs and concinnity of the work makes Iran as one of the best handicrafts in the world, which they are in great demand by tourists.