Ascending Sabalaan Mount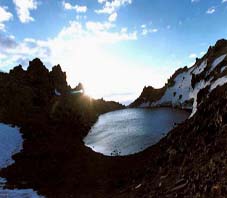 1. Altitude: 4811 m
2. Geographical index: 38° 16\' 50\" N, 47° 50\' 10,01\" E
3. Best Time: Spring and summer (Fully equipped with the ice-climbing tools for autumn and winter ascend)
4. Position: 40 km western south of Ardebil
5. Sort: Semi-active Volcanic
6. Launch Spot height: 3660 m
7. Sketch
8. Grade:
Note: Above Sabalaan peak lies a lake with h300 m, w150 m, and d28 m immensity.
The tour starts from Ardabil.

Day 1:
At 7 a.m. drive form Ardebil to Meshkin Shahr (1:30 hours, 106 km). Then continue to GhotorSoui and Shabil on a road stretched amid a verdant region in which the existence of hot spas multiplies the natural beauties (1:30 hours). Go on driving in a 4wd to the Sabalaan refuge located at 3660 m (2 hours) and stay overnight.
Day 2:
Today set out a 5-hour climbing from the refuge towards the summit. Conquer the peak and visit the lake until noon, where you can take unique pictures of Iranian nature. At 13 p.m. return to tent and hit the road to Shabil. Stay overnight near the hot springs to rest and relax.
Day 3:
Today is the end of your program, hence return to Ardebil and transfer to Sarein to utilize the mineral spas.
Necessary equipments:
1. Sun Glasses
2. Mask
3. Climber boot
4. Wooly glove and hat
5. Sunscreen cream
6. Climbing pick
7. Trekking pole
8. Gortex
9. Polar warmer
10. Extra climbing socks
11. Head Light
12. Gaiter
13. First aid and personal medicament