Bamou Mountain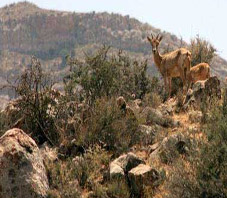 Bamou national park, located 25 km north of Shiraz, is the natural habitat of 55 exotic bird species, 20 different species of rare mammals and unique flora. This region of 48000 hectares includes vast palins and mountains . 3 mountains are stretched from east to west in the mountainous part, the heights of one of those peaks reaches 2700 m. The existence of several waterfalls and springs and the outlook scenery of Shiraz make this region wholly suitable for several hours of eco-touring in the Middle East.
Attractions:
1. The biggest national park in the Middle East and its wonderful flora and fauna
Itinerary:
Depart for Bajgah strait (20 km, 30 min). Enter the mountainous region of Bamou and then trek in the mountains (5 hrs). Return to Shiraz via Kharameh.
Inclusions:
1. Transport
2. Tour guide
3. Breakfast & lunch (optional)
4. Entrance permission
Approximate tour duration: A half day
Best time of operation: Spring & winter