Ghoshnekan to Maharloo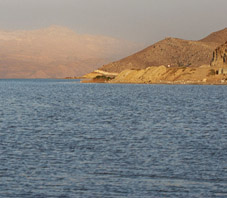 33 km southeast of Shiraz is a saline lake considered as one of the unique ecosystems around Shiraz. This feature is in virtue of the existence of fields, woods and a revitalizing spa. In this tour you will visit all around this fantastic lake and if riding in spring, you will be lucky to experience the blossoming scenery of the surrounding nature.
Attractions:
1. Natural scenery around the lake
2. Historic monuments of Barm-e Delak and Takht-e Abu Nasr
3. Imamzadeh Dast Khezr
Itinerary:
Transport the bikes and bikers from the city center to Goshnekan village. En route, visit Dast Khezr (20 mins), Barm-e Delak (20 min) and Takht-e Abu Nasr (20 min). Followed by cycling for about 30 km around salt lake. Return to Shiraz via Maharloo village.
Inclusions:
1. Transport (Pickup truck)
2. Bicycle
3. Cyclist tour guide
4. Refreshment (optional)
Approximate tour duration: A half day
Best time of operation: Spring, autumn and the end of winter