Dashtak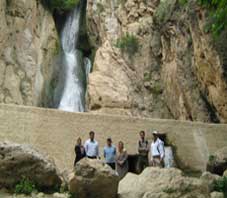 139 km north of Shiraz, behind the incredible mountains of "Setakhteh Gozin" on top of Dashtak Mountain is the marvelous village of Dashtak. The abundance of water in the form of springs and rivers makes this cool-temperate village generous to walnut trees. Other than the eco-attractions, this village is also historical. An ancient stairway, currently useless, used to be the only connection between the two villages of Dashtak and Hesar. although it is amazing in summer and spring, we suggest this tour to be operated in autumn when the trees are painted with colourfull leaves.
Attractions:
1. Hesar & Dashtak historical villages
2. Mountains of Setakhteh Gozin
3. Fantastic nature, woods & springs of Dashtak
Itinerary:
Early in the morning depart Shiraz towards Dashtak (129 km, 2:30 hrs). Visit Setakhteh Gozin Mountains, village of Hesar and historical stairway en route. Then, trek in Dashtak toward the Khounar spring (2 hrs) and have lunch there (2 hrs). Finally return to the village (1:30 hrs) and then to Shiraz (2 hrs).
Inclusions:
1. Transport
2. Tour guide
3. Dining (optional)
Approximate tour duration: One full day
Best time of operation: Autumn