Bala'zar Cave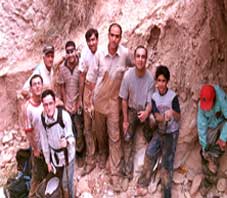 54 km west of Shiraz on the outskirts of Anar Mountain in the vicinity of Haft Barm which is a chain of lakes (LA 330), an extremely large cave with two entrances in north and south lies. Visiting this cave is only feasible for skillful, professional cavers.
Attractions:
1. Haft Barm Region and Anar Mountain
2. Bala'zar village and the natural habitat of licorice, a remedial herb
3. Bala'zar cave
Itinerary:
Early in the morning leave Shiraz towards Bala'zar (1 hr) and have breakfast near Haft Barm Lakes along the way (1 hr). Enter the cave through the first entrance, explore it and exit via the second entrance (3 hrs). Have lunch in Bala'zar and pay a visit to the original habitat of the herbal licorice (1 hr). Finally return to Shiraz (1:30 hrs).
Inclusions:
1. Transport
2. Caver tour guide
3. Camp & other necessary equipment
Approximate tour duration: A half day
Best time of operation: All year round