Izadkhast Citadel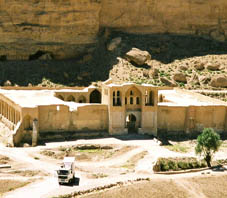 368 km from Shiraz on the road to Esfahan is a citadel near Izadkhast. Due to its unique historical characteristics, this citadel is considered as one of the most astounding castles in the world. We suggest that tourists who intend to travel to Esfahan should definitely visit this castle.
Attractions:
1. Izadkhast Castle (the length of the visit is up to your option)
2. Safavid Caravanserai
Itinerary:
Drive from Shiraz to Izadkhast (368 km, 4 hrs) early in the morning; visit the citadel and the caravanserai. Your option to return to Shiraz or continue the trip to Esfahan.
Inclusions:
1. Transport
2. Tour guide (optional)
3. Breakfast, lunch & refreshment (optional)
Approximate tour duration: One full day
Best time of operation: All year round