Daoo & Dokhtar Mausoleum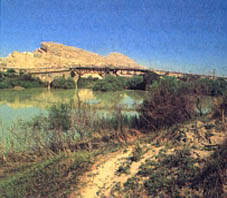 This historical monument, belongs to the Median Dynasty founded at 300 m altitude on "Anna" Mountain is reminiscent of the Achaemenian architecture. We suggest this tour to those tourists interested in visiting unique unknown archeological sites and rock climbing as well.
Attractions:
1. Daoo & Dokhtar, a virtually unknown historical site
2. The ancient bridge of "Pirin"
Itinerary:
Depart from Shiraz to Noorabad (3 hrs). Follow the dirt road to reach the "Moraskhan-e Olya" village (30 min). Then climb to the site having the necessary climbing equipment (1 hr). Visiting the site, climb down and rest (3 hrs). Return to Shiraz (2.5 hrs).
Inclusions:
1. Transport
2. Experienced climber tour guide
3. Breakfast, Lunch & Dinner (optional)
4. The necessary equipment
Approximate tour duration: One full day
Best time of operation: Autumn & winter