Arjan & Parishan Lakes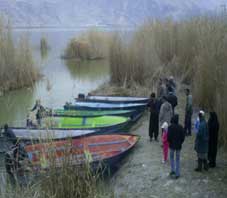 An exotic opportunity awaits bird watchers and photographers at Arjan and Parishan lakes (NP 220). The existence of 203 bird species of which 11 are registered in the red list of IUCN, and 11 in the CITES convention, provides the ideal environment for research and taking photos.
Attractions:
1. Arjan & Parishan Lakes, Flora & Fauna
2. Professional bird watching at both lakes
Itinerary:
Day 1: Travel to the south of Arjan Lake in a 4WD and set up tent. One full day visit of the lake and birds. Use a sailboat to explore around the lake.
Day 2: Depart for Parishan Lake via the protected area and visit the Asian Yellow Deer. Set up the tent near the lake to visit the birds and sail around the lake. Stay overnight in tent.
Day 3: Return to Shiraz.
Inclusions:
1. Transport
2. Tour guide
3. Dining
4. Camp, camera, sailboat & other necessary equipment
Approximate tour duration: 2 days
Best time of operation: Autumn & winter