Shesh Pir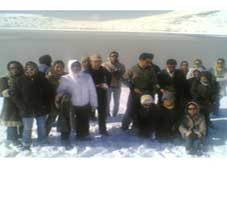 65 km northwest of Shiraz under a huge mountain lies a lush spring in front of the 3600 m Ronj mount outskirts. The locals consider this 2200 m high spring as sacred and its seeping qualitative water is utilized for bottled mineral water. In the vicinity of this sacred spring a 40000 m wide fresh water lake is located which is fed by some springs inflow. The average depth of this lake is 3 to 11 meters, yet the exact central depth has not been estimated. In winter this lake freezes completely solid and creates a breathtaking vista.
Attractions:
1. Shesh Pir Lake
2. Shesh Pir Spring
3. View of Ronj peak
Itinerary:
Early in the morning depart for Shesh Pir Lake (1:30 hrs). Visit the lake from different positions. Then trek to Shesh Pir Spring and pay a visit to that. Have lunch and return to Shiraz.
Inclusions:
1. Transport
2. Tour guide (optional)
3. Breakfast, lunch & refreshment (optional)
Approximate tour duration: Half a day

Best time of operation: All year round