Haft Barm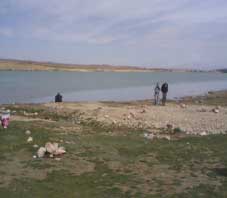 65 km west of Shiraz at 2200 m above sea level on the outskirts of Anar Mountain, (3400 m) a set of seasonal lakes lie in 70 hectare space. These lakes are fed by the snow-melt waters inflow via some natural channels; the average depth of those is 3 to 15 m. These lakes are thoroughly full in winter, while in summer and autumn only two biggest remain. The surrounding lands are canebrake and fertile for farming. The water is slightly saline thus the bird and fish of these lakes are of a unique variety.
Attractions:
1. Haft Barm
2. Bala'zar cave (optional)
Itinerary:
After lunch depart Shiraz for Haft Barm (65 km) and set up tent there. Until night watch the birds and the lake, at night watch the incredible scenery of the reflection of stars in the lake. Have dinner and finally return to Shiraz.
Inclusions:
1. Transport
2. Tour guide
3. Dinner (optional)
4. Camping equipment
Approximate tour duration: A half day
Best time of operation: Late winter and early spring