Arjan Lake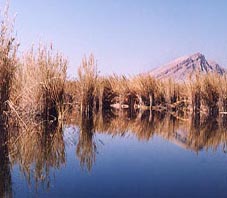 800 m above sea level Arjan Lake is a part of Arjan and Parishan protected area located 60 km west of Shiraz in the southernmost of Zagros Mountains. The highest altitude in this region is 2900 m Chah Barfi peak.
This region boasts the existence of 47 mammal species, 37 creeper species, 3 amphibian species, 10 fish species, 407 plant species and the wonderful 70 m high waterfalls,
hence offers a world of magnificence to its visitors.
Attraction:
1. Arjan lake, its fauna and flora
2. Arjan waterfall
Itinerary:
Day 1: Drive towards the southern part of the lake in a 4wd vehicle (2 hrs). Set up tent near the waterfall for one full day visit of the lake and the surrounding landscapes.
Day 2: Immerse yourself in the natural beauties of this lake and the diverse fauna and flora. In the evening head for Shiraz.
Inclusions:
1. Transport
2. Tour guide
3. Camp & necessary equipment
4. Dining (optional)
Approximate tour duration: 2 days
Best time of operation: Spring, winter & late autumn