Parishan Lake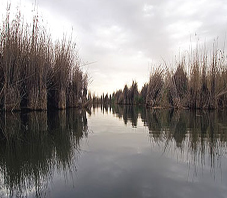 12 km far from Kazeroun in the southwest of Shiraz is Parishan fresh water lake with a7000 hectare immensity and 2 km depth. This 800 m (above sea level) high lake is the natural habitat of various unique birds and fishes. In late autumn, during winter and the early spring this area with farms, flower lands and mild nature is worthy to visit. This area is also valuable for ornithologists and lake experts.
Attractions:
1. Parishan Lake
2. Arjan & Parishan protected areas
Itinerary:
7 am depart Shiraz for the lake. Travel towards the lake (2:30 hrs) and then boat around it until evening. Return to Shiraz (2:30 hrs).
Note: One full day is enough for a normal visit to the lake but for research affairs the visit should be extended to two or three days. We can provide you with all the necessary equipment such as camp, boat, and necessary permissions to make your trip comfortable.
Inclusions:
1. Transport
2. Tour guide
3. Camp (optional)
4. Dining (optional)
Approximate tour duration: One full day
Best time of operation: Early spring, late autumn & winter