Barm-e Firouz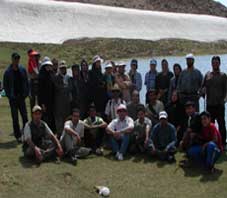 75km northwest of Shiraz in the vicinity of 3316 m Barm-e Firouz peak, at 3200 m above sea level lies a lake with the average depth of 1 to 3 m. In winter, this lake is completely covered by snow and in spring barme fbarme firouzxand even summer the lake is surrounded by the grand glaciers.
Attractions:
1. Barm-e Firouz high altitude lake
2. Barm-e Firouz peak
3. Ski pist
Itinerary:
Note: This tour is operable in one or two days. In spring and summer a 2-day tour is suggested.
Early in the morning drive towards Shekarak region. After breakfast, climb the mountain towards the lake (2 hrs). Visit the lake, have lunch and if interested climb the juxtaposing peak (about 3 hrs). Finally experience an awe-inspiring sunset at 3200 m, descend and return to Shiraz.
By staying overnight you will witness the exquisite night sky and the reflection of stars on the lake.
Inclusions:
1. Transport
2. Tour guide
3. Breakfast, lunch & refreshment (optional)
4. Windbreaker & poncho (if needed)
Approximate tour duration: 2 days
Best time of operation: Spring & summer