Holy Shrines of Shiraz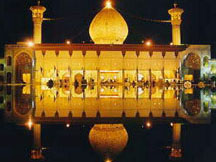 In this tour you will get acquainted with the meaning of such words as Pilgrimage, Imam, Imamzadeh, etc and you will visit several historical shrines in Shiraz. The incredible stucco mirrors, artistic tile works, colored glasses of grillwork windows, hand-woven carpets, soft-hearted people praying God and the divine atmosphere of a beautiful shrine will put a long-lasting impression on you.
Attractions:
1. Shah Cheragh
2. Seyed Mir Mohammad shrine
3. Astaneh
4. Ali Ebn-e Hamzeh shrine
5. Imamzadeh Ibrahim shrine
Itinerary:
Leave the city center to the Shah Cheragh and visit the shrine (30 min), then visit Seyed Mir Mohammad (30 min). Take a stroll to Astaneh (10 min) and visit the shrine (30 min) and then to Imamzadeh Ibrahim (10 min) and visit (30 min). Drive to Ali Ebn-e Hamzeh (20 min) and visit the shrine (30 min).
Inclusions:
1. Transport
2. Tour guide
3. Veil (Chador) for women (necessary to wear while entering these holy shrines)
Approximate tour duration: 4 hrs