Bahram-e Goor Protected Region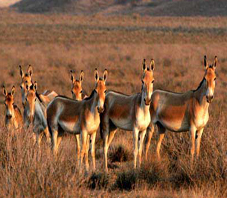 222 km east of Shiraz near Neiriz, Bahram-e Goor protected region lies with immensity 408 thousand hectares, amid the borders of Fars, Yazd and Kerman provinces. The diversity of landscapes in this region ranges from 2787 m to 1600 m and its warm climate suitably hosts Iranian Zebra (Goor-e Khar). Iranian Zebra is a beautiful mammal the race of which is exposed to extinction. Bahram-e Goor is named after Bahram, the Sassanid king who was the expert hunter of Zebra in the ancient eras.
Attractions:
1. Some beautiful lakes
2. Different animals such as Asian Zebra
3. A Sassanid palace
4. Take photos in Estahban's fig gardens
Itinerary:
Day 1: In the morning depart Shiraz for Neiriz (222 km, 3 hrs). Visit Bakhtegan and Maharloo lakes and the great fig gardens in Estahban, an important fig exporter to the world. Have lunch beside a beautiful waterfall in Estahban and then head for Neiriz to visit Jam'e mosque and its unique Mehrab (adytum). Set up tent in the desert to stay overnight (optional).
Day 2: In the morning explore in Bahram-e Goor protected region (pre-coordinated) and en your route to Shiraz or Kerman visit the Sassanid Palace of Sarvestan.
Inclusions:
1. Transport
2. Tour guide
3. Breakfast, lunch, dinner & refreshment (optional)
4. Entrance coordination
Approximate tour duration: 2 days
Best time of operation: All year round