Delou Mountain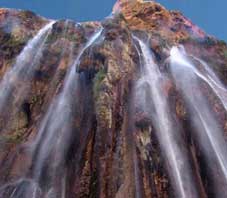 Delou Mount is located 35 km south of Shiraz with about 17 thousand hectare immensity peaked at 3200 m. This mountain has stunning natural landscapes and is suggested for one day mountain climbing trip near Shiraz.
Attractions:
1. Delou mount and the oak woods of Kohmareh Sorkhi region
Itinerary:
Depart Shiraz to the outskirts of Delou (30 min).Climb towards the summit (5 hrs) and stay there (1 hr). Return downwards (3 hrs) and finally to Shiraz (30 min).
Inclusions:
1. Transport
2. Tour guide
3. Necessary equipment
Approximate tour duration: A half day
Best time of operation: All year round