Bel Mountain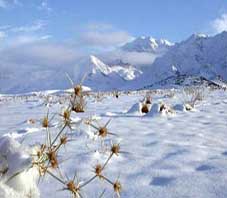 288 km north of Shiraz, Bel mount, the highest mountain in Fars, peaked at 4050 m. Due to the moderate climatic conditions, this summit can be easily captured in spring and summer and even in early autumn. Hence, climbing this mount is highly recommended to amateur climbers and even those with no climbing experience but keen to climb a peak above 4000 m.
Attractions:
1. Pasargadae and the historical monuments along the way
2. Easy ascent to Bel Mountain
3. Surrounding nature
Itinerary:
Day 1: Depart from Shiraz for Eghlid (288 km, 4 hrs) and visit Persepolis (2 hrs), Necropolis (1 hr) and Pasargadae (1 hr) en route. Stay overnight at an inn in Eghlid.
Day 2: Eat breakfast at 5 a.m., transfer to the outskirt of mountain and start climbing towards the camp (6 hrs). Stop twice along the way to rest (15 min) and overnight in the camp.
Day 3: Early in the morning capture the summit, descend (3 hrs) and return to Eghlid (3 hrs). Eat lunch and continue the route to Yazd, Esfahan or Shiraz.
Note: It is possible to operate this tour in 2 days too.
Inclusions:
1. Transport
2. Accommodation
3. Tour Guide
4. Dining
5. Camp and necessary equipment
Approximate tour duration: 3 days
Best time of operation: Spring & summer