Mourgol & Ghash-e Mastan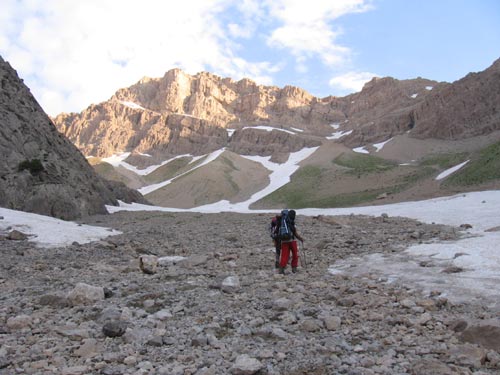 Dena Mountain Chain is a part of Zagros Mountains stretched from Shahr-e Kord to Yasuj in which 40 peaks rise higher than 4000 m. Ghash-e Mastan peaking at 4450 m, is the highest among those. Dena's stunning, majestic and glorious nature should not be missed.
Attractions:
1. The most fanciful landscapes of Zagros Mountains
2. Capture the highest summit of Dena
Itinerary:
Day 1: Depart from Shiraz to the Khafr village (95 km) and visit.
Day 2: At 4 am depart for the refuge (2:40 hrs) via Ghebleh Strait peaked at 3050 m. Have breakfast, climb in the Ghash-e Mastan strait towards Mourgol summit (4429 m). Return to the refuge and set up tent to stay overnight.
Day 3: At 6:30 am start climbing for Ghash-e Mastan and capture the peak (1 hr). Take photos, savour the moment and return to Khafr to stay overnight.
Day 4: Return to Shiraz or to Estahban.
Note:
PTA is capable of organizing itinerary to capture all the peaks of Dena Mountains such as Putak, Khersan, northern Hozdal, Bijan 3, Ghebleh and Ghezel Gholeh. Choose the summit as you like and we will plan the rest for you.
Inclusions:
1. Transport
2. Tour guide
3. Dining
4. Camp and necessary equipment
Approximate tour duration: 4 days
Best time of operation: Late spring & summer