Narcissus Fields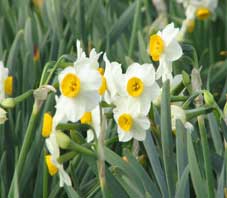 The Narcissus flower is very symbolic in the culture and history of Iran. The special Narcissus of Shiraz is famous in the entire world. In winter, the landscape of myriads delightfully scented narcissus in the vicinity of Parishan Lake, 161 km southeast of Shiraz, is a real charm for both eyes and nose.
Attractions:
1. Charming wild Narcissus fields
2. Parishan Lake
Itinerary:
Early in the morning depart from Shiraz for Jareh Baladeh (161 km, 3 hrs). Visit the fields and then have lunch (5 hrs). Return to Shiraz (3 hrs), along the way stop to boat on Parishan Lake (1 hr).
Inclusions:
1. Transport
2. Tour guide
3. Dining
Approximate tour duration: One full day
Best time of operation: 5 to 25 February