Spending a night with Nomads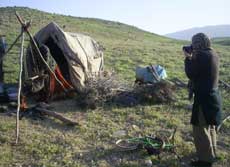 We suggest all the tourists to spend an unforgettable night in the company of the friendly nomads and relish an unusual accommodation in a house with a ceiling of sky, a yard of plains and walls of wooly tissue. Your hosts are as lucid as springs in the mountains.
Attractions:
1. Accommodation with the nomads, getting familiar with their life style
Itinerary:
Since nomads shift their living place to comply with the changes of climatic conditions, the itinerary of this tour will be scheduled upon the time of operation.
Inclusions:
1. Transport
2. Tour guide
3. The necessary equipment
4. Breakfast and dinner
Approximate tour duration: 1 N-2 Ds
Best time of operation: All year round