Ascending Dena Eastern Ridge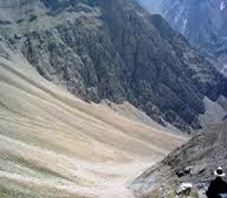 1. Altitude: Climbing more than 10 mounts 4000+ m in 6 days
2. Geographical index:
a. From Noghol: 30° 48' 23,52" N, 51° 43' 42,89" E
b. . To Bijan col: 30° 52' 41,70" N, 51° 31' 27,95" E
c. Paazan Pir: 30° 47' 25,37" N, 51° 38' 57,13" E
3. Best Time: Mid Spring till late summer
4. Position: 213 km northwest of Shiraz, 262 km southwest of Esfahan
5. Sort: Sedimentary
6. Launch Spot height: 2250 m (Sisakht city)
7. Sketch
8. Grade
The tour starts from Shiraz.
Day 1:
At 7 am drive form Shiraz to Sisakht (4 hrs) and have breakfast near the 3200 m Shesh Pir Lake. Continue driving towards Sisakht via Sepidan and Yasouj, have lunch in Sisakht. Then prepare all the necessary equipment for a 6-day trek and hop on a 4WD to the Noghol village. Set up tent in Sardab Valley to stay overnight.
Day 2:
Start the day off climbing Dena mount to reach the first camp at Paazan Pir peak (located below the peak). Savor the magnificence of Dena Mountains, the ridge and the western peaks from that point. Along the way visit Dangezlou village and the nomads settled in that region. Set up tent near Paazan Pir summit to stay overnight at 4000 m height.
Totally 10 hrs trekking.
Day 3:
At 6 am set out climbing again to capture 4302 m Paazan Pir summit, the first peak on the eastern ridge of Dena. Visiting that top, we will trek along the eastern ridge towards Ghash-e Sorkh col. After visiting the 4170 m Rombeseh peak and crossing Tapou col we will capture 4090 Tapou peak. Finally enter Ghash-e Sorkh col, set up tent to stay overnight.
10 hrs trekking.
Day 4:
Early in the morning trek towards Kase-ye Nevel. Pass by 4108 m Ghash-e Sorkh peak and 4140 m Southern Nevel peak along the way. Go on trekking to the 4163 m northern Nevel peak. Set up tent in Kase-ye Nevel to stay overnight near the northern Nevel peak.
Totally 10 hrs trekking.
Day 5:
Start the day off trekking towards Bijan col; pass 4200 m Kal Kharman peak, visit 4061 Namak peak and then 4111 m Barf Kermu peak. After 10 hours finish the climb in Bijan col and finally embark on a 4WD for a short drive to Sisakht.
Day 6:
Visit Sisakht, the touristy city, and hike to Kouh Gol gorge where the springs and wonderful surrounding landscapes await your visit. Stay overnight in that region.
Day 7:
Today en route to Esfahan pay a visit to Shahr-e Kurd and the Bakhtiari nomad enhabit in that region.