Iranian Cheetah Tour (17 Days)
If you think about an itinerary different from those the rest of tourist who go to Iran take, this is exactly what fits you.
in the first glance it may sound like a zoology tour, which is to some extent, but in reality this tour is like an opportunity to enjoy watching wild life and spend nights either in the silence of the desert or in the warm gathering of a family in a remote but charming village .at the same time the itinerary cross through some real highlight of Iranian cultural tours such as Isfahan, Yazd and shiraz.
So do it and kill two birds with one stone.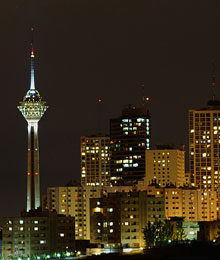 It might sound like a busy introduction for a trip which is focused on nature but still Tehran will offer such a various range of attractions which persuades to turn a blind eye to its pollution and traffic jams.(Transfer Information)
We will try to pay a visit to the best archeological museum of Iran, National museum, where can introduce you to a chunk of precious history and civilization of the country you are going to visit within the next days.
A walk in the bazar is a good opportunity to have the first impression of Iranian society, virtually every city of Iran has enjoyed the existence of bazar from ancient time. Within the walking distance of museum and bazar it is possible to pay a visit to Golestan palace, the originally Safavid resort which grew into Zand and later Qajar complex of palaces and it is the core of present populated capital.
A visit to the awe-inspiring jewel museum will make the day.
Day 2:
Hit the road, nature is waiting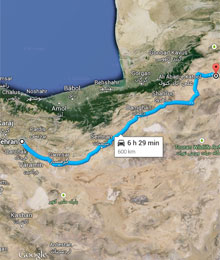 A long drive across Alborz Mountain, which separates the central deserts from Caspian coast line, where on your right side you will have the sober, calm desert lands and to the left high summits of Alborz gives you amazing view.
This combination might be a good transition from urban atmosphere of capital into national park of Miandasht, where wild life is waiting to be watched!
As you get closer to Damghan, a city on the way, you can have stop over and see pistachio gardens.
A good rest would put an end to today.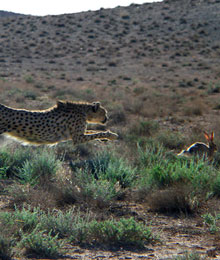 Day 3:
Watch kushki rending a prey,walk in park
Take a walk in national part and see Kushki, the male cheetah who is taken care of in a semi-captive breeding state .12 hectares of fence surrounded this extant endemic race of cat, the fastest living creature on the face of earth .to have a bit of adventure we will enter the fenced area to see him chasing his play and hunts it! So prepare the camera beforehand.
We will have some stroll in the park in the evening and if you can sustain, a night walk in the park would be a perfect opportunity to relax.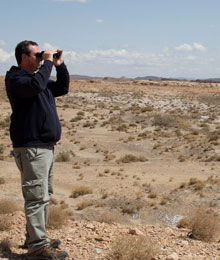 Day 4:
Khartouran National park
Touran wildlife refuge would be the destination of today. This vast park is one of the habitat of varied species of animals, it used to be one of the biggest habitat of Iranian cheetah, unfortunately this animal has exposed serious danger of extinction, but steel there is a chance. Added to this here is the place where Delbar, the faraway mistress of Kushki is bred.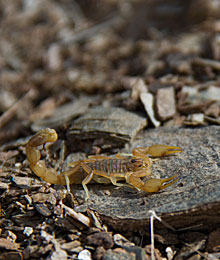 Today we will have a walking route as well in one of the many gouges of the park. The homestay tonight in one of the villages close to park will be a unique experience.
Beside animal life of the park ,different types of stone and geoligical variety of this park is noticable .
Just to mention a bit ,one of the biggest lapis lazuli mines of north east used to be in this park .
Day 5:
Drive to Jandaq through Dasht-e-Kavir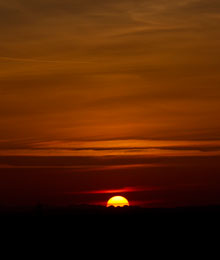 Today we will cut through the central desert of Iran. The road crosses some oasis and some eye catching hills with red-strip decorations .on the way herds of camel might be seen on either side of the road. Furthermore a short stop in sand dunes would provide you with good location for photos!
In Jandaq there is possibility to stroll in old citadel which in some part is well restored .ask the locals about the story of construction of portal. Such mystic pulp fictions adds to the joy of visit!
Tonight we will stay, according to the opinion of guide, time of the year and coordination made we will stay in one of the nearby oasis.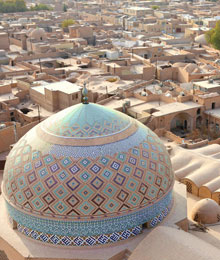 Day 6:
Moving to city of wind catchers, Yazd
To go deep into the desert of Iran and engross in this geography we move through desert to the diamond of desert, Yazd .on the way we might have some stops to walk in sand dunes.
Yazd, the city where is called "the city of worship" by Muslims, where the labyrinth of its old district will amaze you and its delicious sweets will cheer you up is an old city which dates back to Meds .it was originally called ISATIS and later was supported by Sassanid kings .later on in 13 and 14 centuries this city was center of attention and great monuments was built here.
Day 7:
lose yourself in clay wall labyrinth of Yazd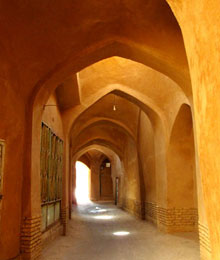 Jame mosque of yazd and Rokn-o-din mausoleum are in the same neighborhood. That can be a good start of sightseeing in Yazd .Then we will walk toward Fahadan district; on the way we can visit one of the main industries of this city from long ago: " looming" .two main types of fabric are produced in this city : Termeh & Darayi .
Added to this, Yazd is known as the city if wind catchers, walking in old district you can see them. The highest wind tower of Iran is located in Yazd in Dowlat abad garden that can be another site to be visited today
Beside Muslim monuments, since as the city is one of the main cities of Zoroastrians, the fire temple and towers of silence are the two other sites which will be visited.
Day 8:
Bafgh, mine of natural resources which generously hosts national parks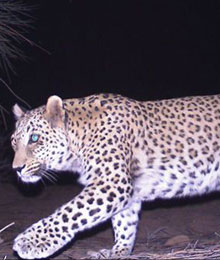 Early in the morning we would leave yazd to go toward bafgh .Bafgh, 125 km away from Yazd southeast ward, a city which is located among copper and lead mines also hosts one of the national parks of Iran where has a varied flora and fauna .the national park of Bafgh where its protection officially began in 1988, is one the main habitat of Asian cheetah.
Note: for the night we can go back to city Bafgh and next day move toward Isfahan.
In case you are eager it is also possible to extend excursion in this park to two days.
Day 9:
Driving to Isfahan, Safavid capital, through Naien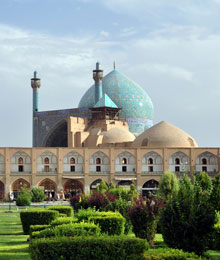 today again we have a shift of focus from nature to culture and history within a drive of almost 450 km .we will pass yazd and head off to Naein where in a short stop we pay a visit to its beautiful mosque with its unique stucco working and beautiful wooden fretted Minbar .
Then, the road takes us to Isfahan, as its inhabitants put it, Isfahan half of the world!
1602 is the date when shah Abbas Safavid moved the capital to Esfahan and this was the start of a big process of construction in the city .still the royal modification of the city is the main attraction of Isfahan in and around Naqshe-jahan square (pattern of the world) and for the evening time the bridges on Zayande-rud river have their own fascination
Day 10:
Shah Abbas host us tonight in his capital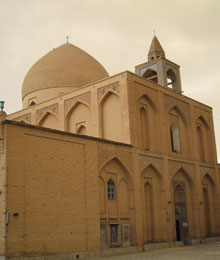 According to the decision of the guide the plan of visiting attractions normally divides into two-day visit.
Today let's pay a visit to Armenian district, Jolfa. Surp Amenaprgich Vank, the most ornamented church of Iran .then a coffee in one of cafes around can be a good suggestion.
Concerning the time of the day and the taste of the tour the guide can decide about the rest of the day.
Day 11:
Nature again, Mouteh park and night at a Citadle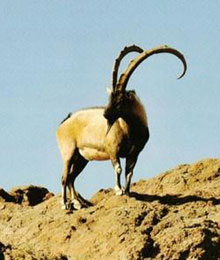 Moutheh wild life refuge would be the destination of today's drive. So far 142 species of vertebrates have been recognized there, including 25 type of mammal, 88 type of bird, 25 kind of crawler, 3 kind of fish and one type of amphibian.
So today we will get there and spend some time patrolling in the park.
During his attack to the region, Aqa Mohammad khan the founder of Qajar dynasty spent one night in the place where we will stay tonight! It is called Gogad citadel; don't worry the place has restored and now is equipped even with internet.at the request of the passenger we even might be able to coordinate live traditional music.
Day 12:
Change of altitude, let's go over 4000m!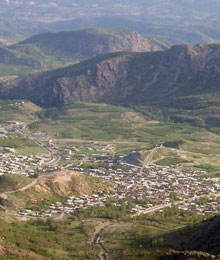 Thus far all the natural sections of the tour has spent in the desert lands, so it is time to move toward mountainous parts and higher altitudes .Variety is the color of life !
Zagros one of the two main range of Iran mountain ranges stretches from North West of Iran to south west.it hosts such a touching flora and fauna life and as the area it covers is long the variety is unique.
The destination would be a small city called SI SAKHT. More than 40 peaks above 4000 meter has surrounded this village. Located at the hillside, this village is surrounded by numerous springs, most of them bottled to be sold as mineral waters.
Refresh, and enjoy the surrounding.
Day 13:
Moving to city of love, Shiraz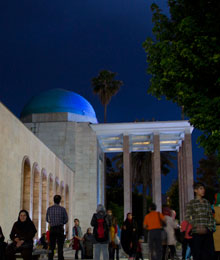 The distance driven today is almost 213, so in case we are not in hurry to arrive Shiraz sooner, half a day walking in the area advised!
The way goes through Yasuj, the capital Kohgiluyeh and Boyer-Ahmad Province. The temperate weather and fertile lands of this state has made is a suitable place for dwelling from Bronze Age on. Findings from 3rd millennium B.C proves the history of region. Hills from Achaemenes time and findings from the war of alexander might be enumerated among the historical highlights of the region .Nowadays most of its inhabitants speak Lori language. Their music and folk songs well project their long and nostalgic relation with nature.
A good relax and sleep in Shiraz would be an end to today.
Day 14:
Bamo national park, taste of nature in Fars state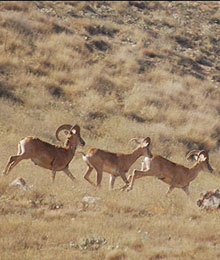 Just to keep up with theme of our tour, today we move 10 km north to go to Bamo National park, a park with more than 100 animal species and a varied herbal life.
As previous days in national parks the main activity would be walking in the park, patrolling, watching animals and enjoying the sceneries.
At night we would be back to Shiraz to prepare for shift of theme. The archeological paradise of Fars is welcoming you.
Day 15:
Walk in overwhelming collection of Achaemanids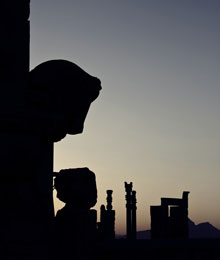 No body ignores the historical importance of west and south west of Iran; in reality it is its perfect geographical position which from old ages made it a suitable spot for civilizations to settle and grow.
Of all of this civilizations ,one of the most civilized and powerful ones used to live around present shiraz .Acheamands ,this strong dynasty rolling over a vast part of earth almost 500 b.c built their ritual capital at the hill side of Mount of Merci .
Later on ,on the cliffs of Hussein mount ,almost 8 km to the west of Persepolis ,they carved their crypts ,where later the cliffs received some masterpieces of Sassanid period as well .this collection is now called Necropolis or as locals call it Naqsh-e-Rostam .
These Jaw dropping collection will make your day.
A visit to the mausoleum of Hafez and relaxing in the surrounding garden, would be good time to ponder in what you have so far received from Iran. A FALL, a custom which will be explained by your guide, is advised.
Day 16:
Perfec ending of tour by visiting Shiraz, city of secrets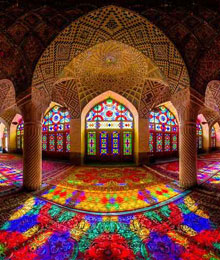 It is not that we are located in shiraz, or that we are trying to brag about our own city, ask anybody you meet from the beginning of your trip about shiraz to tell you the fact that : "Shiraz is the most relaxed city of Iran ".
City of nightingale, poetry, flower, oranges and wi…winds (there is no wind)! Welcome to the city of Hafez, Sadi, Khajo and many other literary icons.
City of old districts and those amazing maze of narrow street ,on the west, around Shah Cheragh mausoleum ,the Biggest and most ornamented mosque in south Iran ,and big shops and crowded streets plus one of the biggest Hyper markets in the middle east on the east side of city where modern life is lived .
Perfect sites of Zand & Qajar area like Vakil bazar, Karim-khan citadel, Narenjestan, Pink mosque and many other will cheer you up.
So this beauty spot, this collection of tradition and modernity is the place where we spend the day.
Day 17:
departing pearl of middle east ,Iran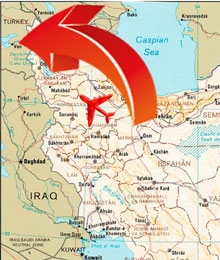 Notice :
1. This tour is quite felixible ,so while the main route can be this it is open to some modification ,like rest of our tours !
2. thought it would be much easier to fly out of Iran from Shiraz ,in case you couldnt get the ticket ,or wanted to depart Iran from Tehran ,we will fly back to Tehran on 16th night .