Bamu National Park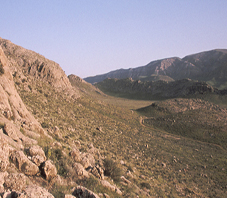 Bamu National Park with an approximate space of 48 thousands hectare encompasses 32 mammal species, 91 bird species, 19 creeper species and 3 amphibian species. On the other hand, the rich flora of this region consists of 350 species among which 51 kinds are endemic to this park and make it a uniquely gifted and diverse national park. the park has vast palins and also mountanious areas ;the height reaches 2700 m in one of the peaks .
Attractions:
1. Arjan Protected Region
2. Arjan Lake
Itinerary:
Bamu National Park located 25 km far from Shiraz can be visited in 5 hrs to several days. Providing you with all the facilities, PTA is capable of operating different styles of visiting this area.
Inclusions:
1. 4WD vehicle
2. Eco tour guide
3. Entrance permission
4. Camping equipment
Approximate tour duration: Optional
Best time of operation: Spring and autumn