Lost Paradise (Behesht-e Gom Shodeh)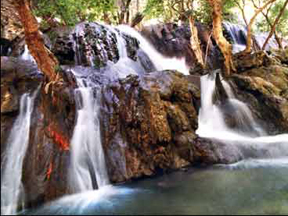 120 km northwest of Shiraz on the outskirts of Zagros Mountains lies Lost Paradise Protected Region with 20000 hectare immensity. This area is the habitat of a diverse and exotic flora and fauna and natural landscapes. A vast valley is located above a fertile plain in this region along which, due to the exposition of calcic riverbed to the current water, lots of wonderful pools are created. The existence of the huge trees which shade on the valley produces a whimsical atmosphere where one's soul relaxes. In this tour we will reach Lost Paradise via Beiza and Kamfirouz and return to Shiraz via Doroudzan dam, one of the hugest ones in the Middle East and the mausoleum of Job, the prophet.
Attractions:
1. Lost Paradise Protected Area
2. Lake of Droudzan Dam
3. Prophet Job's mausoleum (subject to conditions)
Itinerary:
Early in the morning depart Shiraz for Lost Paradise via Beiza (2:30 hrs, 120 km) and visit the protected area (3 hrs). Hit the back road towards Shiraz via Kamfirouz, the lake of Doroudzan Dam (2 hrs) and Job's mausoleum (1 hr).
Inclusions:
1. Transport
2. Tour guide (optional)
3. Breakfast, lunch & refreshment (optional)
Approximate tour duration: One full day
Best time of operation: Round the year